What is HubSpot? HubSpot is an all-in-one customer relationship management software (CRM) that provides tools for digital marketing (specifically inbound methodology), sales, customer service, content management, and operations. These tools are called "hubs."
If you're a business owner, you've probably heard a lot about HubSpot. Someone told you it's vital for marketing. Another boasts of its customer service and sales features. It seems like everyone's using it for different reasons. Why? Because when it comes to all things related to prospects and customers, HubSpot has expertly crafted software for it. Let's break down what the platform offers and why so many businesses have used it to replace everything else.
CRM +
On the surface, HubSpot is a CRM. A CRM is software that stores and organizes data you need to know about your current and potential customers (or donors, clients, etc.). The data includes contact information, purchase or donation history, support tickets, and more. But CRM is just the tip of the iceberg for HubSpot.
Not including CRM, HubSpot is five software platforms in one. These platforms, called hubs, are specifically focused on the customer journey and relevant to virtually all organizations and businesses. They specialize in:
The software platforms aren't just additional features tacked on as a bonus. They're whole ecosystems, completely self-sustained with multiple components. We'll discuss them one by one.
Marketing Hub
HubSpot's Marketing Hub alone can do more than some platforms that only specialize in marketing. You'll get access to tools for blogging, video, social media, search engine optimization (SEO), email marketing, and more. Not only will you be able to create effective inbound marketing content, but you'll see if it's working through HubSpot's reporting and analytics tools. These tools are essential for seeing what marketing is working and what needs to change, saving you time and money.
Sales Hub
HubSpot's Sales Hub helps you automate busy tasks, like scheduling meetings and creating email sequences, so you can focus more on your prospects. HubSpot's customer and prospect communication tools include 1:1 video and live chat boxes. You can also manage your pipeline by seeing your sales team's productivity performance and deal forecasting.
At Soulheart, our team uses HubSpot's Sales Hub for tracking deals, booking sales calls, creating quotes, and more. According to HubSpot, customers with both the Sales and Marketing Hubs see a 74% increase in deal close rates after 12 months.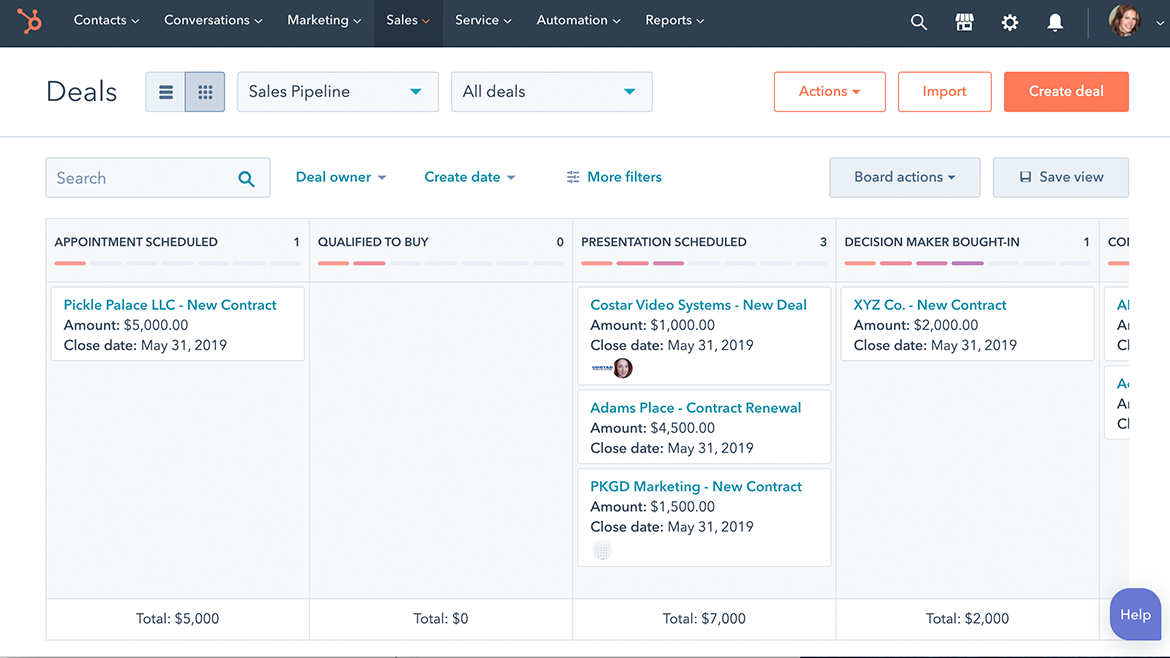 Service Hub
HubSpot's Service Hub makes it intuitive and easy to put the customer first. You can create customer portals, help desks, and ticketing systems all on your website. You can also incorporate omnichannel messaging which allows you to communicate with your customers and prospects across different channels that are all connected (like SMS and social media). It even lets you create customer surveys. HubSpot's customers with Services and Sales Hubs see a 124% increase in deals close-won after 12 months.
CMS Hub
A CMS is a content management system used to create, edit, organize, publish, and manage digital content on your website. Let's say you want your homeless shelter to come up first on Google when someone searches shelters in your area (known as Search Engine Optimization or SEO). To do that, you decide to write blogs about shelters and put them on your website. Practically, those blog posts can only be created and published through a CMS.
Beyond blogging capability, HubSpot's CMS Hub includes an easy-to-use website builder, photo and video management, and custom web applications (like maps or calculators). You'll be able to tell what content works best for your organization through HubSpot's web analytics, SEO recommendations, and A/B testing (comparing different types of content to see which is better). Oftentimes, a single website may have to use several different platforms to utilize all of these features. With HubSpot, you get them all in one hub.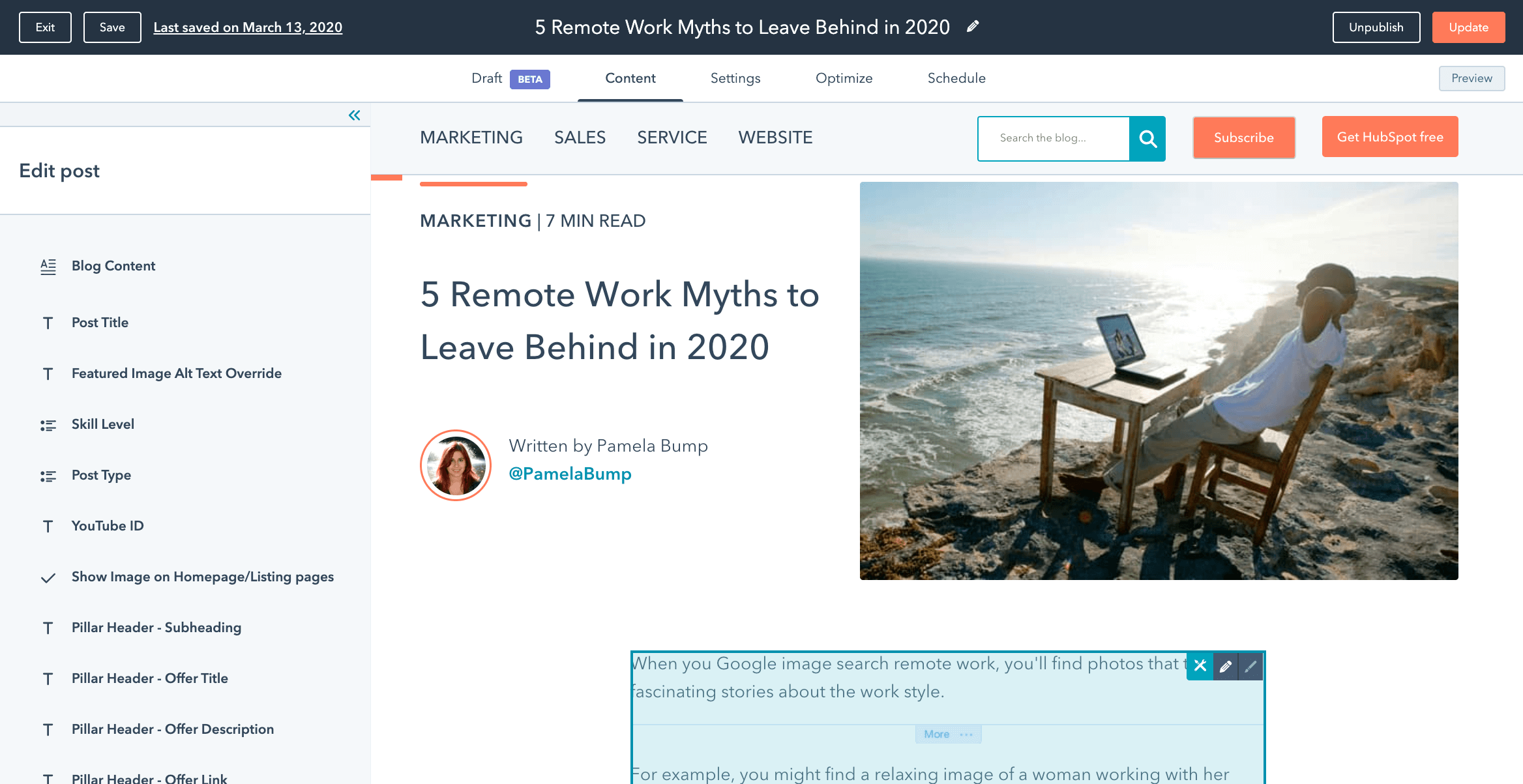 Operations
Taking care of things behind the scenes always makes for a better customer (and team) experience. HubSpot's Operations Hub allows you to connect all your integrated applications and customize workflow. When it comes to data, HubSpot is a major time-saver. The Operations Hub lets you sync customer data, eliminate duplicate data, and even automate data quality.
We've covered the five hubs, but we're still not done with all the other cool parts of HubSpot.
Integrations
Speaking of integrated applications, did you know HubSpot's extensive marketplace has over 1,000 integrations? We get it – your team may be used to an application you've used for years and the transition to something different is giving you a headache just thinking about it. Keep calm and know you can use your favorite platforms and software seamlessly with HubSpot. Examples of apps you can integrate include Google Suite, WordPress, Outlook, Zoom, Slack, and more.
HubSpot also has in-house apps you can integrate. We use their website grader (it's the best).
Community
Because so many business owners, team leaders, and employees use HubSpot, it's only natural that HubSpot hosts community forums. There are HubSpot community groups for everything – content marketing, social media, revenue operations, and so on. These groups exist so you can strategize with others, get questions answered, and even network. 
Academy
You might be thinking, "All of this sounds great. The problem is, I don't understand any of it." That's why you'll love HubSpot Academy. HubSpot Academy provides high-quality courses on the subjects you need to learn about. Whether it's digital marketing or frictionless sales, HubSpot equips you with the training and education you need from industry professionals. You can even get certified on topics and publish your certifications on LinkedIn.
Soulheart's entire team has been certified through HubSpot's highly esteemed Inbound Marketing Course. Across the board, our team members have received certifications in Content Marketing, Ads, and more!
Plans
Within every hub, there are Starter, Professional, and Enterprise plans. Starter plans range from $23 – $45 a month, Professional plans can be $350 – $720 a month, and Enterprise plans are around $1,200 – $3,700 a month. These plans exist so everyone from small business owners to famous brands (like DoorDash and Reddit) can use HubSpot. Don't forget, HubSpot has free tools as well for CRM and all five hubs, which makes it perfect for startups, micro-businesses, and anyone who wants to try it before they buy it!
Onboarding to HubSpot with Soulheart
Would it surprise you to know that digital marketing agencies like Soulheart use HubSpot's Marketing Hub, too? It's true! Currently, we're using their ad management and SEO tools, and we love it! We're so passionate about HubSpot that we're a HubSpot partner and offer HubSpot onboarding services to our clients. Onboarding to HubSpot with us is much better than onboarding alone because you'll receive the following:
HubSpot configuration to your business or organization's needs
Training on HubSpot products
Consulting on inbound marketing from our team
Professionally designed templates
What Are You Waiting For?
When a marketing agency that uses HubSpot works with a client who also uses HubSpot, the stars truly align. Marketing experts have a deep understanding of what HubSpot can do (which is a lot). That's why we celebrate when one of our clients gets HubSpot. We know that means we're going to help make their marketing efforts a whole lot easier and infinitely more successful. Whether you're ready to sign up or just have some questions, talk to one of our team members today.
HubSpot FAQS
What is HubSpot?
HubSpot is an all-in-one software that provides products for customer relationship management, digital marketing (specifically inbound methodology), sales, customer service, content management, and operations.
What tools does HubSpot have?
1. HubSpot Marketing Automation: With HubSpot you are able to create and manage automated marketing campaigns, optimize website experiences, and measure the return on investment or ROI for your marketing campaigns.
2. Customer Relationship Management (CRM): You can easily store and manage customer information such as: name, phone numbers, email address, website, job titles, and many more all in one place with HubSpot. You can also track customer interactions and deals and automate sales tasks inside of HubSpot.
3. Sales Tools: Inside of HubSpot you are able to create and send personalized email templates, set up sales sequences, create and send proposals, track email opens and link clicks, and schedule meetings with clients and leads.
4. Service Tools: Create a self-service knowledge base, provide a live chat feature on your website, and manage customer tickets as well as other interactions.
5. Content Creation: Create website pages, landing pages, forms, and blog posts. Then you can also optimize each for search engine optimization (SEO) to get found on search engines like Google.
6. Social Media Tools: Schedule and publish social media posts on multiple social media platforms, manage social media interactions, and track your social media results.
7. Mobile Apps: Gain access to Hubspot's tools on a mobile app.
8. Integrations: HubSpot integrates really well with a variety of other tools such as: WordPress, Salesforce, Shopify, Slack, Google Analytics, and over 500 others.
9. Analytics Reporting Tools: Easily track website traffic, leads, customer behavior, and sales and marketing performance all in one spot.

HubSpot is also adding new tools and features regularly so this list is just the beginning!
Can I integrate my existing CRM with HubSpot?
The short answer is yes, you can integrate your existing CRM with HubSpot. HubSpot offers a variety of integrations like Salesforce, Zendesk, and more.
Can HubSpot help with my inbound marketing?
Yes, HubSpot is a great tool for your inbound marketing efforts. Inside of HubSpot you can create and optimize content, analyze website performance, manage and nurture leads, and more. It allows you to attract visitors, convert leads, and close and delight customers.
How much does HubSpot cost?
The cost of using HubSpot can vary. It depends on what plan you choose and how many contacts you have. There a variety of pricing plans available including a free plan, a starter plan, and different professional and enterprise plans.
Does HubSpot offer discounts to nonprofits?
Yes, if your nonprofit is looking to use HubSpot then you can save 40% on the normal price to scale your marketing, improve your SEO, simplify your reporting, and engage your core audiences.
How can I use HubSpot to track and analyze my website's performance?
With a variety of analytics tools, HubSpot allows you to track and analyze your website's performance. You can see how many visitors your website is getting, what pages they are visiting, where they are coming from and more.
Can HubSpot be used for both B2B and B2C marketing?
Yes, HubSpot works well for both B2B and B2C marketing. The platform's wide-range of features and tools can be used for any type of business regardless of the niche and audience.
What kind of support and resources are available with HubSpot?
There is a variety of resources and support options that you can use to get the most out of the platform. There is a knowledge base, community forum, support from a dedicated customer success team, and training and certification programs. If you work with Soulheart, as an agency partner with HubSpot, we are able to help you out as well.
Can I create and manage email campaigns?
One of the best features that HubSpot offers is their email automation for email campaigns. The platform offers a variety of email marketing tools including email templates, automated email sequences, and analytics.
How can I use HubSpot to find and nurture leads?
HubSpot's CRM allows you to store and track information about your leads. The marketing automation tools allow you to create lists for different levels of interest, create custom lead nurturing campaigns and set up automated email sequences.
How can I get started with HubSpot and is there a free trial?
To get started with HubSpot let us know and we can get you started with a free 14 day trial of the platform. With that free trial you have access to a limited-version of the software which will allow you to explore its features, and see if it is a good fit for your business or nonprofit. Soulheart can also set up a custom demonstration showing you the features that will benefit you the most and how to use them.