Last week, we talked about 4 Reasons Why Content Calendars Are Essential. Today, we'll consider what goes into making a content calendar, and how you can do it so that it saves you time in the long run. It's important to take a top-to-bottom approach when making a content calendar. Keep the main purpose and ideas in mind, and go from there!
We recommend using a spreadsheet file with multiple tabs to keep track of your content and objectives. Here's how we suggest to divvy up those tabs.
Tab 1: Overall Strategy
The goal for the first page is to think about your long-term plans for the company and how those translate into different types of content. This is a page that you'll refer to again and again, and it might take some tweaking over the first few months as you begin to realize what works.
You should make sure to outline the types of content you want to include, your audience groups, and the frequency of posts that you're aiming for. This helps you have a good reference to evaluate your posts from month to month.
Tab 2: Posting Schedule
The second tab will outline your daily posting schedule. This is where your content themes become real posts! This schedule will become a place for you to put the content until you're ready to schedule it or post it. You'll be able to have everything planned out in advance, so when the time comes, it's ready for publication immediately!
Every post will ideally have:
An image. If necessary, you'll also be able to have custom graphics created to complement your captions.
A caption.
Relevant hashtags
Any links to your website
An "approval" column This is especially helpful if you have someone on your team doing this. As the owner, you'll be able to log in and approve or give feedback. Make sure you're using a shared file system like Google Sheets if you want multiple people to be able to work in it.
A "scheduled" column
In our experience, the more you can plan ahead the better. The beauty is that if you can sit down and dedicate a couple of hours to write an entire month of content, it will save you time over the course of the whole month! However, be flexible as you get the hang of it. Every business is different, and it's important to adjust the process until it moves smoothly.
Tab 3: Blog Content
This tab is created to help you see the development of your blog over time. It gives you an overall vision for the posts, helping you steer everything in the right direction! We encourage you to utilize different writers in your company to fulfill the blog writing. For example, the owner could write every other month, the sales director writes once per month, and the marketing team covers the rest. Make sure you have multiple minds brainstorming and creating content. It will be more authentic and diverse coming from multiple people — creating a more interesting final product!
Make sure you're looking at analytics to see which blog posts do the best! Posting more content like this will most likely get you more fans and ultimately, customers.
The way we like to structure our blog is with four columns. One focuses on the month and the important details: the author, due date, and publication date. The other columns focus specifically on the content: topic, details, and keywords. This method of organization helps the writer know what to focus on and helps you keep the bigger picture in mind.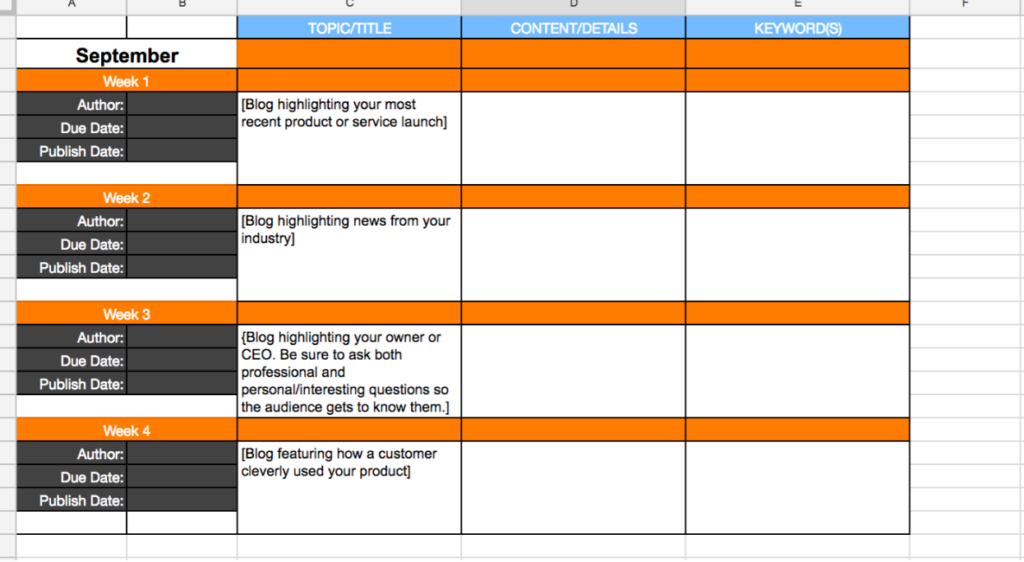 5 QUICK TIPS FROM THE PROS
1. Give yourself time to get good at using the content calendar. If you need to post only once per platform per day to start out, then do that.
2. Check platform analytics at least once per month to see what kinds of posts are performing the best. Use that data to work more of that type of content into your calendar.
3. Create a workflow and set due dates for you and your team. A tool like Trello or Basecamp works really well for this. You can add and take away team members, set due dates, make comments, and hold each other accountable.
4. Keep your audiences in mind as you write captions. Each content theme (or topic) will speak to multiple audiences but make sure you have a specific one in mind for each post. Make sure the content you are putting out there speaks to each audience group throughout the month.
5. Have routine brainstorming sessions with your team to maintain a flow of fresh ideas and keep track of all these ideas to use in the future! You'll always need a bank of ideas to pull from!
Free Content Calendar
Our mission at Soulheart is to help other people, and, in line with that mission, we'd like to give you a free sample content calendar. Download it and get creating!
© Soulheart 2019, all rights reserved